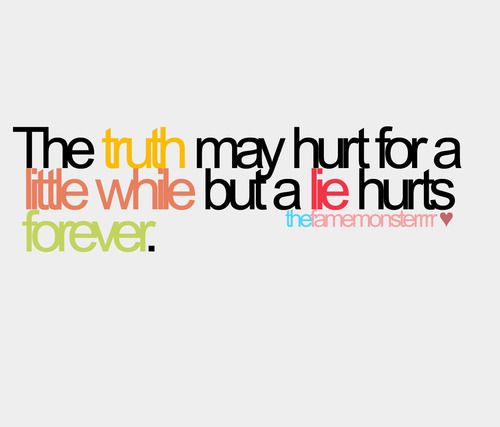 After I posted about my "
friend
," I still am feeling pretty crappy. Thank you all for listening and reading that post- I know it's a hard one to respond to, but it really helped get things out there and a way for me to vent.
I decided that I needed to talk to my psychiatrist more about this. Her recommendation was to talk to a therapist who would be able to give me more time to talk things over since I do not require medication.
Two weeks ago, I met with my new therapist and the session was more of a getting to know me, she wanted to know what brought me to her and basically an overview of my life etc. The hour appointment was over before I knew it and I did shed a few tears. I left feeling like it was nice to talk to someone, but I didn't feel as though anything was resolved. I think it will be a long(er) process for me to figure things out, but I think I am on the right track.
It's amazing how things were going so well for me and finding out this lie and more importantly the fact that my "friend" lied to me, to screw me back up. Luckily, I am no where near where I was, I
Some of my issues that I hope to work out with the therapist:
~Lying to me for 12 years.. Do I want to continue to be friends with her? Can I ever trust her again?
~If I decide not to be friends with her ever again, how do I work through this grieving feeling that I have. I am mourning the loss of this friend.
~I've been hurt a lot by so-called friends that it's hard for me to open up and make new friends- how do I get past that?
After my appointment a few days ago, I have determined that what's the most upsetting to me is that after my "friend" told me this lie, She basically told me that if I wanted to continue the friendship, that I would have to be the one to reach out to her to do so. She's the one who lied, but I have to reach out to her? What the hell? I feel like by telling me this, not only is she making me feel like now it's my fault that we are no longer friends but that she could careless about being friends with me because she's not going to put in any effort into our relationship or trying to fix it.
It's a big slap in the face more than finding out she has been lying for 12 years or what the actual lie was about.
I am not a failure because I don't have many super close girlfriends.I just have a guard up and this "friend" situation, is exactly why I have built a guard. After years and years of friends abandoning me or moving on when I gave 110% into our friendship and obviously not getting 110% back.
I desperately want to move past this.