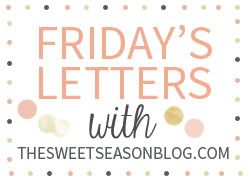 Aubrey: Waking up at least 6 times every night for the last 3 nights is exhausting. Please hurry up and start sleeping through the night again.
Aubrey's last 2 year molar: Hurry up already! You cannot come fast enough. This mama is tired of
Micah: Thanks for a great Valentine's Day meal, even though we did have to eat while listening to Aubrey have a major temper tantrum. So not romantic but at least we were together, right?
Chipotle: Thanks for putting me into a major food coma. I am full. Yum.
Brand new coat: I am really annoyed that 3 buttons have already fallen off. I just bought you!
Therapist: I've only started seeing you last month, but I know you are going to help me figure some things out in regards to my "friend".
Weekend: Thank you for coming. I cannot wait to finally celebrate Aubrey's birthday, do some much needed grocery shopping and more! I am pretty excited to nap when Aubrey naps and finish the book that I have started.
Come join the party and link up with Ashley
here
!