I've always said that Aubrey has never attempted to climb out of her crib and that I want her to stay in there for awhile. Well, I guess I spoke too soon.
On the morning of Friday 2/15, Micah heard that Aubrey was up for the morning and went into her bedroom to get her out of her crib. She was not in it, but clinging to the crib hanging on the side about to fall out.
That's right. Aubrey is now attempting to climb out of her crib. We hoped this was a fluke and/or that this scary event of almost falling out deter her from doing it again.
That night after she went to bed, Micah and I were catching up on DVR'd shows and over the monitor I hear, "Help me! Help, Mama!" As I entered her room, she was balancing on the rail of her crib with her feet on the outside holding on to the railing under her stomach. She did it again. She was panicking and not wanting to fall while sobbing for help.
An hour later, I hear her yelling for help again on the monitor. She did it again.
Micah and I were freaking out. Not only could she fall and hurt herself, but since her nursery is attached to our master bedroom via french doors, she really could get up and walk around our room and the house. Who knows what she can get into while we are sleeping!
Saturday morning we knew we had to make a decision. We decided that we were going to remove the rail from Aubrey's crib and convert into a daybed but also move her furniture into the guest bedroom and that would be her new room. We did this all wrong and we are afraid that we are paying the price. We didn't warn Aubrey this was coming, we just did it and are hoping that she will adjust/adapt to these changes.
While Micah was moving her bed into the new bedroom, I looked at the empty nursery. I flashed back to when I was 4 months pregnant setting up this room and I teared up. My baby is really not a baby. She's a two year old. She's a BIG girl.
Aubrey's first nap in her new room/bed took place about 2 hours later than her normal nap time. Aubrey was fighting sleep. I finally got her to lay down on the bed and she was so close to falling asleep. When I said for her to go sleepy, she would burst out in massive crocodile tears and start crying. I rubbed her temples and massaged her forehead while watching her eyes roll back in her head. She was tired. I stayed with her until she was asleep and she managed to sleep for her normal 2 hour nap.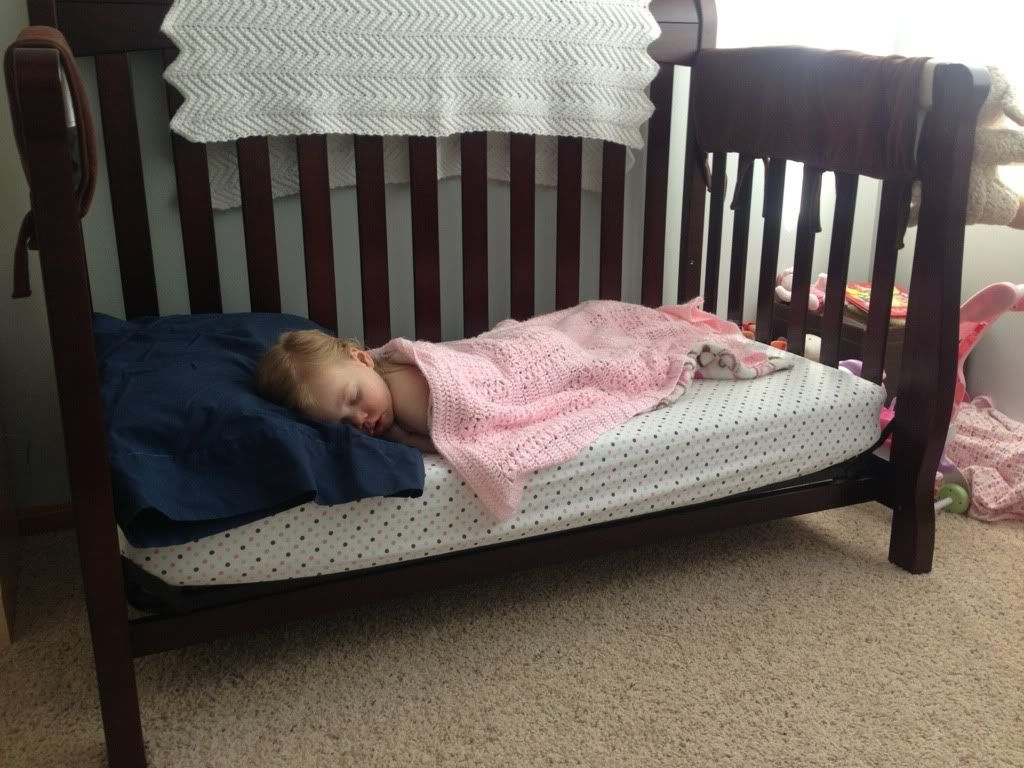 First time sleeping in her toddler bed!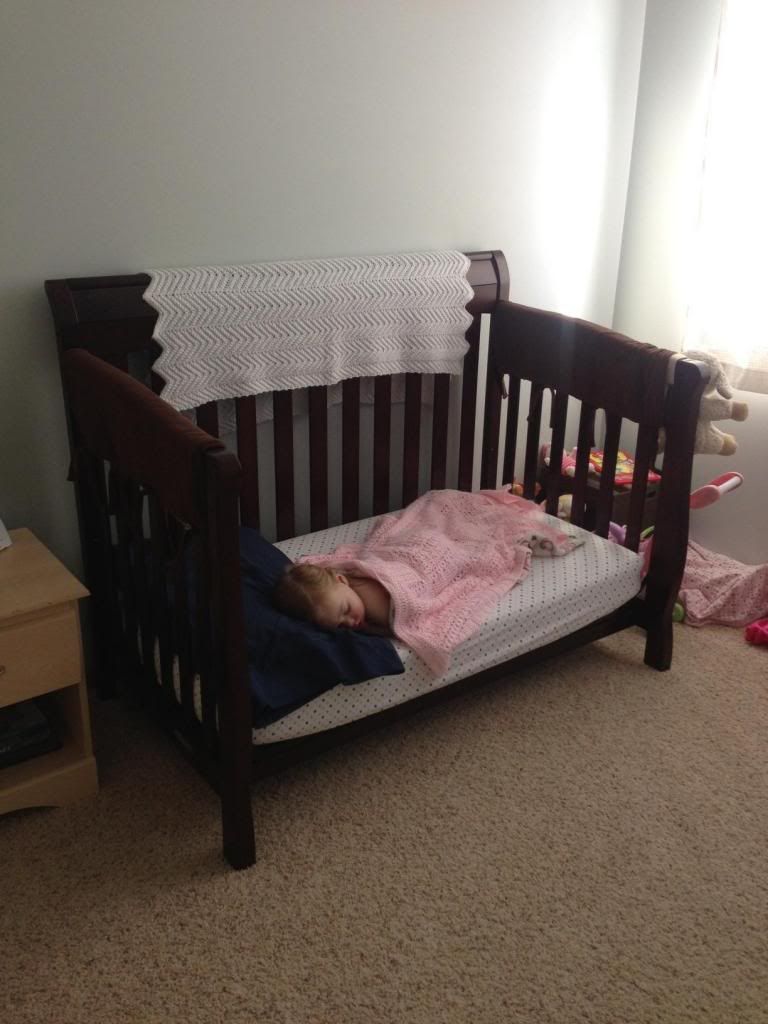 When Aubrey woke up, She was calling out to Micah and he went into her room to get her. She was sitting on the edge of the bed waiting for him. It's almost like she wasn't sure if she could get out of the bed or not. We did put up a baby gate at the doorway to her new room so we can close her door slightly and she will still won't be able to get out of the room, but at least she can open the door and yell out to us. This will only work until she's tall enough to try to climb over the gate.
Getting Aubrey to go to bed used to be easy. We would tell her it's time for bed, bring her upstairs, read her a book and turn out the lights, give her hugs and kisses and I would lay her down. She would lay down on her own, say goodnight to us, that she loved us and tell us that she was a good girl. I would walk out of her room and I wouldn't hear a peep (on a perfect night) until the morning.
Now... Aubrey is refusing to go to bed. She kept asking for book after book even though she was visibly exhausted and ready for bed. We had to fight her to get her to lay down and go night- night, something we haven't had to do in a LONG time.
Poor Aubrey. Lots of change. Hopefully that she's just fighting us a lot right now because she's sick too. She's waking up anywhere from 4-8 times each night and typically she's been at the baby gate holding her blankets crying. We go into her room cover her ip and she goes right back to sleep but this waking up stuff needs to end!
I have to admit that it's kind of fun to move her room. We are in the midst of re-decorating and buying a new nightstand, book/toy shelf and new curtains etc.maybe that will help Aubrey like it more? Who knows.